Friday, November 27, 2009
Withered Debutante
Muffy Bolding
learned to knit on my great big sofa and says...
"At the beginning of Summer 2009, CJ Arabia sat me down cross-legged on her couch in Los Angeles, turned on Nancy Grace, thoughtfully handed me two refreshing, ice cold bottles of water -- one to drink, and one to rest against my sweltering cooter -- and taught my fatass how to knit. Not only have I never looked back, I am now completely obsessed -- thanks in no small part to her endless enthusiasm and encouragement. It is absolutely an understatement to say that she has changed my life. She's like a thoroughly hot, hip, modern knitter...except with your grandmother's infinite patience, huge hooters, foul mouth, and questionable moral fiber -- though that might be just MY grandmother, so of that I shall speak no more. As a writer, artist, crafter, DIY proponent, and animal activist, CJ is fearless, generous, enthusiastic, and insanely talented -- and as a knitter and knitting teacher, she is exactly the same. She believes in you and the power of your needles LONG before you do. I imagine that someday -- if they are fucking lucky -- tens of thousands of people will have learned to knit from CJ Arabia...and it will be a great badge of honor to be able to make that claim. ALL HAIL CJ ARABIA AND THE VULGARIAN YARN MAFIA!"
Posted by

Peanutbutter Jones
at 12:00 PM
No comments:

Tuesday, November 24, 2009
"Before CJ showed me the ropes, I knew absolutely nothing about knitting. Now, I'm nearly halfway through with my first project, a beautiful, two-color scarf! Thanks to CJ, I now have the confidence to tackle the most ambitious knitting challenges! CJ's mastery of the craft and laid-back demeanor helped make what could have been an intimidating feat into a joyous adventure! Thanks CJ!"
"Finished my scarf. I can wrap it around twice!"
- Jeff Maksym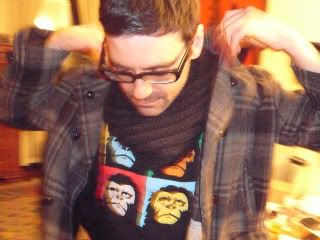 Actor, writer and boyfriend
Mather Zickel
learned to knit while watching the Giants game... it's THAT easy. "CJ is a harsh taskmistress," says Mather Zickel "be sure to drink heavily."